How to Ensure a Clean, Green, Mean Heating and Cooling Machine!
Our Service Team
To put it simply, your comfort is covered at Windsor. Should your heating system experience any problems, or if it's a steaming hot day and your central air conditioning shuts down, our team of experienced and expertly trained technicians is standing by, ready to help. If you're looking to protect your comfort systems while achieving maximum output and energy savings, make sure to check out our comprehensive service plans.
Preventive Maintenance
Our expert, certified technicians perform periodic maintenance (tune-ups) on both your heating and cooling equipment. Just like your car, your boiler or furnace and air conditioner need periodic maintenance to perform at their best. Windsor Fuel's expert technicians can restore your comfort systems to peak operating condition with periodic tune-ups. There are many benefits to a tune-up:
Efficient operation. A well-tuned system uses less energy to achieve the same level of comfort. It also produces cleaner emissions.
Less money wasted. By reducing the amount of energy your system uses to heat or cool your home, you'll be saving money as well! For example, according to the National Oilheat Research Alliance, a boiler or furnace tune-up alone can reduce your heating bills by up to 5 percent.
Improved reliability. When a skilled Windsor Fuel technician tunes your comfort equipment, he is likely to spot any worn parts that could cause a system failure. He'll replace these parts (at no extra charge, depending on your service contract), and your chances for trouble-free operation when you need it most will be greatly improved.
Repairs
Our certified technicians are the best in the business. They've been trained to master the latest comfort system diagnostic equipment to catch the tiniest glitches in your system, and we continuously send them to specialized classes in heating and air conditioning system installation and maintenance. Not only are our service techs clean and neat; we think they're the friendliest service professionals you'll ever meet. What's more, our service vans carry thousands of dollars worth of replacement parts, so you can be assured of a repair well done.
24-Hour Emergency Service
Heating system problems tend to appear at the most inconvenient times, but that's never a problem for Windsor. Whether it's a late hour or stormy weather, Windsor's technicians are here for you around the clock, ready to restore your comfort. Should a serious problem occur, just give us a call, and a courteous, highly trained professional will arrive as soon as possible. Twenty-four hours a day, 7 days a week, 365 days a year, Long Islanders and Queens residents can rest assured that Windsor Fuel is keeping an eye on their comfort!
Service Agreements
"Planning ahead" is the best way to avoid problems, especially when it comes to your heating system. If you'd like to stop problems in their tracks while enjoying the most efficient comfort possible, Windsor has the solution: our Gold Plan Full Service Agreement. With our Gold Plan, you significantly minimize the possibility of large out-of-pocket repair expenses; there's never a worry about a surprising bill hitting you after standard or emergency service. And, our Gold Plan is the most comprehensive and effective protection possible; it covers over 50 of your system's most valuable parts and controls.
Also included in our Gold Plan Service Agreement is a heating system tune-up, which thoroughly checks and cleans your equipment in order to guarantee peak performance.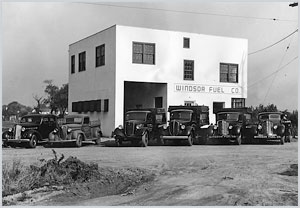 For your Gold Plan Heating System Tune-Up, our technician will:
Adjust aquastat
Adjust flame
Check pump pressure
Check flow and cutoff valves for proper operation
Check primary control for safety cut-off
Check and clean chimney base
Check draft regulator
Lube motors and circulator pumps
Replace oil filter, strainer and burner nozzle
Perform entire heating system efficiency test
We also offer an Express Plan for your heating system, as well as a Gas Service Agreement. For details on these plans, or for more information on our Gold Plan, call or contact us today.
Need more information on our maintenance services? Contact us!